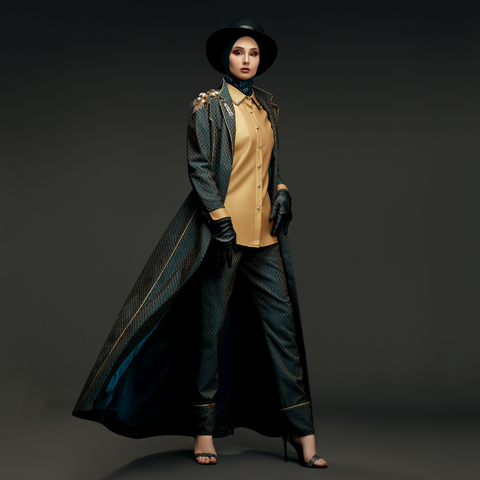 One Set Raph Saudi Torquise Gold (Shirt, Outer, Pants)
Pickup currently unavailable
Tanya via WhatsApp
➭ Material : 

1. Basic shirt berbahan Faux Leather
2. Long Outer berbahan Jacquard dan piping berbahan Faux Leather 3. Accessories Renda dari kuningan dan batu batuan
4. Interlining Satine prada
5. Pipe Pants Berbahan Jacquard dengan Piping Faux Leather

Size: M
Accessories : Kancing Swarosky di bagian depan dan kerah
Colour : Torquise and Gold
---------------
NINA NUGROHO adalah label busana muslimah rancangan desainer Nina Septiana.

NINA NUGROHO mengusung konsep Modest Fashion for Professional yang bernuansa Klasik Modern, yaitu memadukan gaya desain klasik yang timeless dengan kesederhanaan warna yang tegas yang tak lekang waktu dan gaya modern yang up to date dan mengikuti kebutuhan dan tuntutan mobilitas dunia modern.
NINA NUGROHO membawakan koleksi dengan tema 'Women In Power', yang berarti kekuatan wanita. Koleksi yang ditampilkan adalah desain busana kerja yang dibuat dalam versi hig-end.

Disajikan dengan aksesoris nan mewah yang disukai wanita. Menggambarkan kekuatan wanita dalam sebuah busana.Memancarkan aura kekuatan dan percaya diri seorang wanita